Fellow countrymen and women,
What happens when you take an elitist, Hollywood liberal and have them live amongst the common folk? Look no further than Matt Damon, who has learned a huge secret… that regular Americans are actually nice people!
According to Douglas Ernst from The Washington Times:

Matt Damon: Oil riggers 'singing church songs' offered 'eye-opening' 'Stillwater' research
bit.ly/3hWJb6X
Matt was in such an ideological bubble for most of his life that he couldn't grasp the idea of conservative oil riggers being good dudes. Better late than never.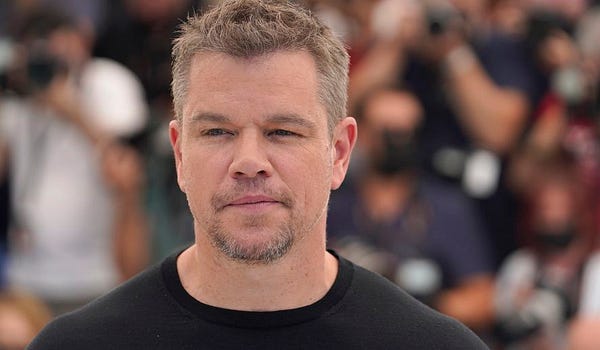 Matt Damon says meeting oil riggers from Texas and Oklahoma during research for his upcoming film "Stillwater" was an "eye-opening" experience.

The actor, a longtime liberal activist, told reporters at the Cannes Film Festival that his character would have likely been a supporter of former President Trump while also opining on the riggers' help.

"These people were wonderful to us and really helped us," Mr. Damon said Wednesday of meeting "roughnecks" in both states. "I didn't know when I first read the script how specific this culture was in Texas and Oklahoma, these roughnecks and what they do. And so it was really eye-opening for me."

Advice on numerous issues related to the character — a man searching for his estranged daughter in France — came during invites to backyard barbecues to "the reddest state."

"A guitar comes out and somebody starts singing church songs," Mr. Damon said of the experience in Oklahoma, Breitbart reported.
Good on you Mr. Damon, it's good to leave the left-wing bubble and echo chamber every so often!
Your humble servant,
Ben Stein
P.S. The fun doesn't stop when the episodes end! Come join me and let's chat on MeWe!
Please Leave Our Show a 5-Star Review on Apple Podcasts!
Please consider taking a minute to help us grow our podcast listenership by leaving an honest rating and excellent review to help us keep the show skyrocketing and onto those trending charts! Click here to leave a review.
Check Out Our Recent Episode
Connect With Ben & Other Fans
Subscribe to the Show on Rumble
We heard you, we listened, and we have acted! You can now find The World According to Ben Stein on Rumble.
Parler is Back Online!
We knew it was only a matter of time, and now Parler has finally made a triumphant return! Let us once again enjoy free speech, open discourse, and have a ton of fun together in the process. Please follow my account (I'm the only Ben Stein with a Gold Badge so you know its the real me) by clicking the button below.
Invite Your Friends to Like Our Facebook Page
Did you know The World According to Ben Stein has a page on Facebook? Please "like" it today and if you have a moment, please share and invite your other friends to like the page too. You can find the page by clicking the button below.
Please Share the YouTube Channel With a Friend
It is our honor to join you live every Tuesday and Thursday at 7pm PST on YouTube. Please if you haven't already, subscribe to the YouTube channel today and hit the notification icon so you never miss alerts and notifications. If you want to go a step further, send the link to the channel to a friend and join us live in the comments during the show, we might even read your comment and questions on air!